Taste of Home subscription - Save up to 48%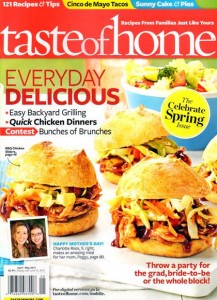 Taste of Home Magazine is a must-have for those looking for simple, affordable recipes made with everyday ingredients.
If finding new tasty family favorites on a budget is high on your agenda, look no further. Each bi-monthly issue offers up cost-saving tips an in-depth guides for easy new recipes.
Taste of Home also provides high-quality photos of each recipe featured, leaving nothing to chance for the next kitchen adventure.
Issues per year: 6
Publishing frequency: Bi-monthly
First published: 1993
Publisher: Reader's Digest Association

↓ Don't miss out on a chance to save up to 48% on a Taste of Home subscription. ↓

include('rand-text.php'); ?> Taste of Home

Looking for another food magazine? See our Top 10 List or view all current deals.