Fine Cooking subscription - Save up to 49%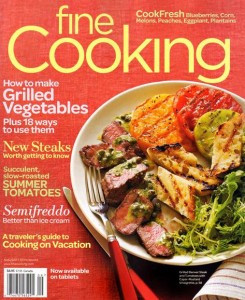 Fine Cooking is a magazine that is good for the home cook who is looking for ways to improve their culinary skills and bring their meals up a notch.
This monthly magazine provides recipes that are not complicated for those looking for easy dishes to cook up. Additionally, it is a great resource for people looking for recipes that are a bit more challenging.
The photographs are beautifully done and are accompanied by eay to follow and detailed recipes. Fine Cooking is published bimonthly by Taunton Press.
Issues per year: 6
Publishing frequency: Bi-monthly
First published: 1994
Publisher: The Taunton Press

↓ Don't miss out on a chance to save up to 49% on a Fine Cooking subscription. ↓

include('rand-text.php'); ?> Fine Cooking

Looking for another food magazine? See our Top 10 List or view all current deals.