Vegetarian Times subscription - Save up to 73%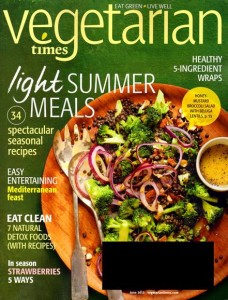 Vegetarian Times is focused on helping readers maintain their healthy lifestyles with a wide range of content geared at diet, exercise, food and nutrition.
Published nine times per year, this food and nutrition magazine fills pages with tons of recipes, photos, tips and advice.
If you're interested in increasing the nutritional value of your diet, Vegetarian Times Magazine can be a great resource. Stay on top of he latest health, food and nutrition trends, and save some money while you're at it.
Issues per year: 9
Publishing frequency: Monthly
First published: 1974
Publisher: Active Interest Media

↓ Don't miss out on a chance to save up to 73% on a Vegetarian Times subscription. ↓

include('rand-text.php'); ?> Vegetarian Times

Looking for another food magazine? See our Top 10 List or view all current deals.