Cooking Light subscription - Save up to 70%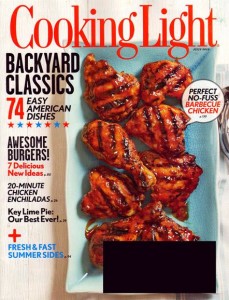 Cooking Light is not just a magazine of recipes, it is a magazine that promotes a healthy lifestyle.
In addition to recipes, the articles include topics on nutrition, diet, fitness, and even thoughtful discourse on where our food comes from. The recipes may not be for dishes that are the lowest calories in the strictest sense, but they are healthier versions that are just as tasty as their higher fat counterparts.
The philosphy behind Cooking Light revolves around making smart choices about our food, not about deprivation. The recipes range from comfort foods to more cosmopolitan fare. The photography is beautifully done and will tempt you to make the recipe beside it.
Issues per year: 12
Publishing frequency: Monthly
First published: 1987
Publisher: Time Inc.

↓ Don't miss out on a chance to save up to 70% on a Cooking Light subscription. ↓

include('rand-text.php'); ?> Cooking Light

Looking for another food magazine? See our Top 10 List or view all current deals.