Cook's Illustrated subscription - Save up to 30%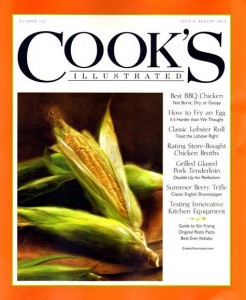 Cook's Illustrated is not ordinary run of the mill food magazine. This is a magazine for true foodies and for those who are genuinely passionate about food and the preparation of food.
The people behind the scenes of Cook's Illustrated test and retest their recipes using various techniques and ingredients to find the perfect recipe to share with their readers. The magazine also applies this process of testing and evaluating to kitchen tools and products, which is a great resource when one is researching the best product to buy in one's budget.
Cook's Illustrated is published bimonthly by America's Test Kitchen. This magazine is popular for a reason – it is highly informative and you can trust that the recipes will be good.
Issues per year: 6
Publishing frequency: Bi-monthly
First published: 1993
Publisher: America's Test Kitchen

↓ Don't miss out on a chance to save up to 30% on a Cook's Illustrated subscription. ↓

Deals on Food & Cooking Magazine Subscriptions: Cook's Illustrated

Looking for another food magazine? See our Top 10 List or view all current deals.