Bon Appetit subscription - Save up to 67%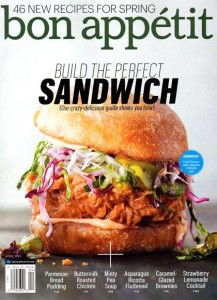 Bon Appetit works hard to help readers enjoy their meals with a wonderful mix of content that leaves little to be desired for food enthusiasts of all kinds.
Each monthly issue offers up the latest food trends, healthy cooking recipes, table ware, kitchen designs, spirits, wines and the best destinations for unique cuisine.
Bon Appetit packs in a ton of features in each of its 12 yearly issues, including quick, easy menus, healthful cooking and in-depth reviews of what's new in the marketplace.
Issues per year: 12
Publishing frequency: Monthly
First published: 1956
Publisher: Conde Nast Publications

↓ Don't miss out on a chance to save up to 67% on a Bon Appetit subscription. ↓

include('rand-text.php'); ?> Bon Appetit

Looking for another food magazine? See our Top 10 List or view all current deals.