EatingWell subscription - Save up to 50%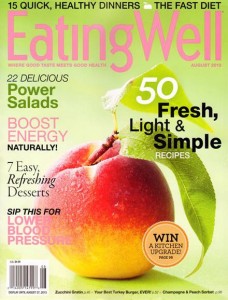 EatingWell, an award-winning magazine, is a one stop shop for flavorful yet healthy recipes, information on nutrition, and the latest trends in the food industry.
Published bi-monthly, this leading food and cooking publication packs in a ton of useful information into each of its six yearly issues – features, tips and advice all centering on food and health.
If you're interested in learning about where our food comes from, sustainabilty, conscientious diet choices, eating in season, as well as just preparing and eating delicious food, then you will find all that in EatingWell.
Issues per year: 6
Publishing frequency: Bi-monthly
First published: 1990
Publisher: Meredith Corporation

↓ Don't miss out on a chance to save up to 50% on a EatingWell subscription. ↓

include('rand-text.php'); ?> EatingWell

Looking for another food magazine? See our Top 10 List or view all current deals.